Pest News
It's about to be ant season! Especially if we have a wet spring. Ants that typically live in the soil will come out when the ground gets saturated,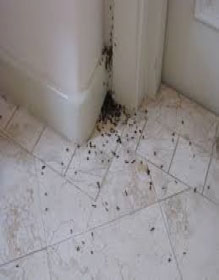 and the first place they usually go is in your house. Having us do your pest control treatments will go a long way to keep them out. Because every time we do a pest control treatment we treat the perimeter of your home to form a barrier. The ants or other insects will have to go through the barrier in order to get inside. It usually only takes about 24 hours after they have interacted with the barrier for them to go away.
Our pest control program consists of 4 quarterly treatments per year and is backed with our guarantee. If you have any pest issues between the regular scheduled treatments, just let us know and we will come back to treat those problems for you at no additional cost.
As insects become more active some good pest control tips to follow are:
Be sure to keep all food in airtight containers
Make sure your garbage can has a lid on it
Take garbage out as soon as the bag gets full, and keep the outdoor garbage container away from your house.
Lastly, make sure you aren't leaving pet food out all the time.
If you are in need of ant control in west TN, give Southern Lawn and Pest a call at 901-476-8188.